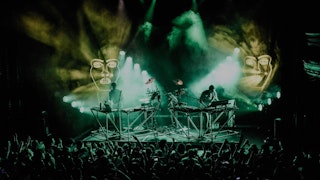 Disclosure
Disclosure's 'Settle' campaign spanned 2 years and 3 design progressions. Will was integral in growing the live show from club act to a worldwide sell out phenomenon.
10,500 fans filled Alexander Palace and headline live performances at festivals such as Glastonbury, Coachella and Lollapalooza were broadcast live.

Will won his first Knight Of Illumination Award for his work on Disclosure.

"one of the weekend's more impressive stage designs."
- Rolling Stone on Bonaroo Festival (Disclosure 2014)

"As for the visual spectacle, the projections and light show were on point, featuring the brothers as stars more than a typical electronic artist."
- Consequence Of Sound (Disclosure 2015)

"Every song is accompanied by amazing visual effects that provide a unique aesthetic to each of them, turning the show into a set of many delightful sensory experiences."
- The Upcoming (Disclosure 2015)

"hugely impressive video show."
- Manchester Evening News (Disclosure 2014)