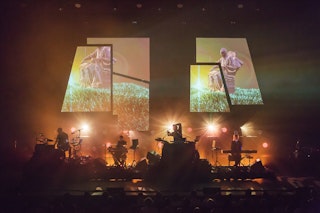 Oneohtrix Point Never
Stage
Oneohtrix Point Never
OPN's new album Age Of is accompanied by MYRIAD , an expansive conceptual live project dubbed a 'concertscape' and 'four-part epochal song cycle'.

Working closely with Daniel and his associated artist Nate Boyce we created a touring concert environment that accompanied the experimental sensory electronica and video set that makes MYRIAD a visually compelling experience.

Sold out shows at The Barbican, Shibuya O-East Tokyo, Funkhaus Berlin, Le Centquatre Paris, Walt Disney Concert Hall LA. Touring continues.
Client : Oneohtrix Point Never
Lighting Design : LSD (Will Potts)
Touring Lighting Operator : Tom Mason-Smith
Set : Griffin Frazen
Video : Nate Boyce

"The songs from Age Of, particularly those in the latter half of the set feel denser, more physical, and - in conjunction with the lights and video work - it's hard not to feel like you're being subjected to a sensory overload. It's as though you just spent the last hour and a half plugged into a machine that transmitted the entirety of human existence into your brain, with all its hopes and anxieties amplified."
Robert Whitfield - The 405